Domestic EPC for Dwellings
UKBC are registered to produce Energy Performance Certificates (EPC's) with Stroma.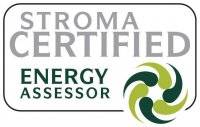 You need an Energy Performance Certificate to legally rent or sell any domestic property. An EPC is important because it tells prospective buyers or tenants the cost of running a home. Furthermore, it also shows where efficiency improvements could be made. The EU introduced EPCs as part of the 2002 Energy Performance of Buildings Directive and the UK government made them compulsory in 2007.
Upon leaving the EU, the government has highlighted that these regulations will be kept. It is also likely that the UK government will make them stricter. For instance, as of of 1st April 2018, it will be unlawful for private landlords to grant a new lease or lease renewals on properties with an energy performance rating of F or G. Subsequently, from 1st April 2020, this will extend to all privately rented dwellings – irrespective of whether there is a new lease or not.
Energy Performance Certificates with UKBC
In the case of residential new builds, extensions and conversions, we will issue an Energy Performance Certificate towards the end of your project. Once the project is nearly complete, our STROMA accredited engineers will produce a residential EPC. This process includes:
Checking the Dwelling Emissions Rate (DER) is lower than the Target Emissions Rate (TER) specified by your SAP calculations.

Assessing any changes or updates to the building fabric, heating, cooling or ventilation systems.

Assign an EPC rating from A–G, with A being the most energy efficient and G being the least.

Logging the property into the government's landmark register to complete EPC certification.
Generally, dwellings need an updated EPC every ten years. However, this may be sooner if a major change had occurred, such as the installation of a new heating system.
Resources
The Energy Efficiency Minimum Requirements for Private Rented property is changing as of April 1st.
To find out more or how this could affect you, click HERE or on the document to the right.
Contact Us
UKBC will guide you through the entire process of Energy Performance Certification for dwellings. Furthermore, our service includes help and advice to make sure your building gets an excellent energy performance rating.
For more information or to arrange an assessment, CONTACT US today.